CFA Acting President Du Zhaocai elected as a FIFA Council member
2019-04-12 16:08 CFA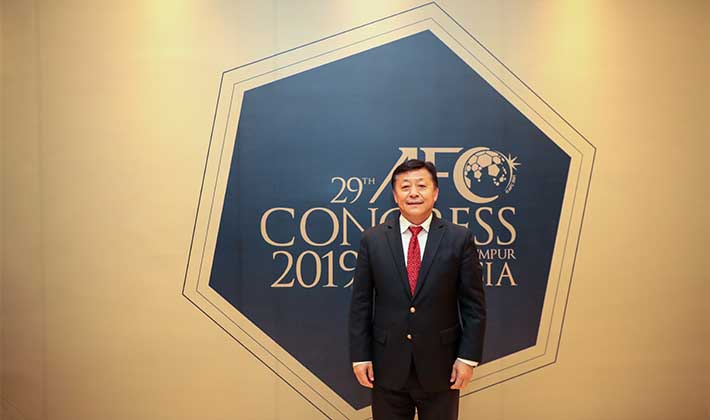 Official press release - 6 April 2019: Chinese Football Association (CFA) Acting President Du Zhaocai has been elected as a FIFA Council member at the 29th Asian Football Confederation (AFC) Congress in Kuala Lumpur, Malaysia.
Du has been elected for the four year term of 2019-2023. Ms. Mahfuza Akhter Kiron from Bangladesh was elected as the AFC's female representative on the FIFA Council, whilst Mr. Praful Patel from India, Mr. Kohzo Tashima from Japan
, Mr. Mariano V. Araneta, Jr. from Philippines and Mr. Saoud A. Aziz M A Al-Mohannadi
from Qatar were also elected and will represent the AFC alongside Du.
Du's election is an important step for the CFA, as it continues to pursue an active role in the progression of Asian and international football. Since the launch of the General Plan for the Reform and Development of Chinese Football in 2015, the CFA has deepened the reform of Chinese Football, which has helped create exciting new opportunities in football for countries all over the world.
Du's election is a reflection of the growing importance of Chinese football in Asian and international football circles, and a clear sign that the CFA wants to take responsibility for growth of the game in Asia and beyond. The CFA is determined to use its experience of football reform to continue fulfilling its commitments, and enhance its contributions, to the AFC and FIFA.
Speaking after the election, CFA Acting President Du Zhaocai said:
"I would like to express my gratitude for the support and trust from all AFC Member Associations. It is truly an honour to be elected to serve my Asian colleagues as a representative on the FIFA Council and I promise to repay their faith in me with tireless hard work. My vision is to connect Asia and help create a new era of football. I want to create more opportunities for all AFC stakeholders, increase our influence in global football, and help grow the game. But as a FIFA Council member, my focus is global and I want help ensure that a stronger Asia can help create a stronger FIFA, where all nations benefit."
The FIFA Council is the highest decision-making body of FIFA. There are 37 members on the FIFA Council, including six Asian representatives. In addition to the five elected members – including one reserved placed for a female member in accordance with the statute of FIFA – the re-elected AFC President Sheikh Salman Bin Ebrahim Al Khalifa serves as a FIFA Vice-President for Asia.
All AFC Executive Committees members were either elected or re-elected at the Congress meaning all members will now serve the same four year term from 2019 to 2023. Eric Fok, the representative from Hong Kong, China, was among the new Executive Committee members who were elected.