China's Wang Shuang Joins PSG
2018-08-03 20:50 CFA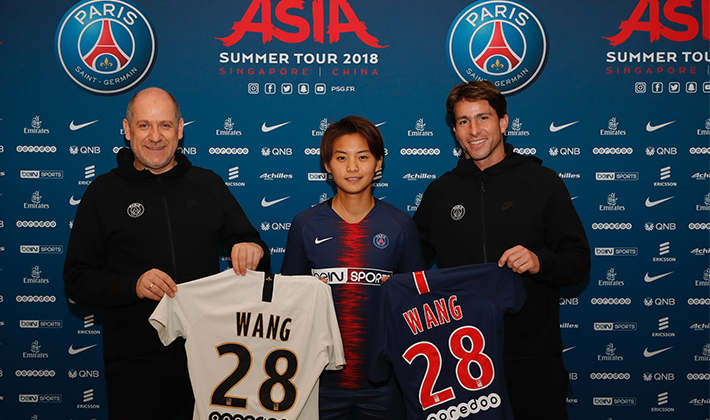 On August 3, 2018, Wang Shuang, player of the China Women's National Football Team, joined French powerhouse Paris Saint-Germain (PSG) women's team as the second Chinese female footballer playing in Ligue 1.
PSG held a signing ceremony for Wang after she passed the medical check.
Accompanied by PSG forward Neymar Jr. and former FIFA Women's World Player of the Year and CFA Women's Football Youth Training Department Director Sun Wen, Wang signed a two-year contract with PSG, a club at which she will play in the new season of Ligue 1 and UEFA Champions League.
Wang said at the signing ceremony that it gladdens every Chinese footballer to have an opportunity of playing football abroad and a player can only recognize his or her weakness through competition with top footballers in the world.
Also, as part of China Women's National Football Team, Wang would like to seize more wins for China against European teams and inspire more girls committing themselves to the sport by playing her due role.
The 23-year-old midfielder debuted for the national team at the age of 18. Wang was the sole Chinese player included in the Top 50 Best Performing Female Footballer in the 2015 FIFA Women's World Cup Canada. Her stoppage-time goal in the 2016 AFC Women's Olympic Qualifying secured a spot for China in the 2016 Rio Summer Olympics and later the Chinese team progressed through to the quarterfinals. Wang also stands as the youngest foreign player in the South Korean league and won two Chinese League titles for Dalian Quanjian.
She played for the Wuhan Jianghan University club women's team before joining PSG
.
It is hoped that Wang will have a successful career in PSG and the 'Steel Rose', as the poster girl for China Women's National Football Team, could bloom in European football games.